Building Meaningful Connection
REV exists to help leaders break through the noise of the world to build scalable and sustainable Meaningful Connection with and among those they lead and serve.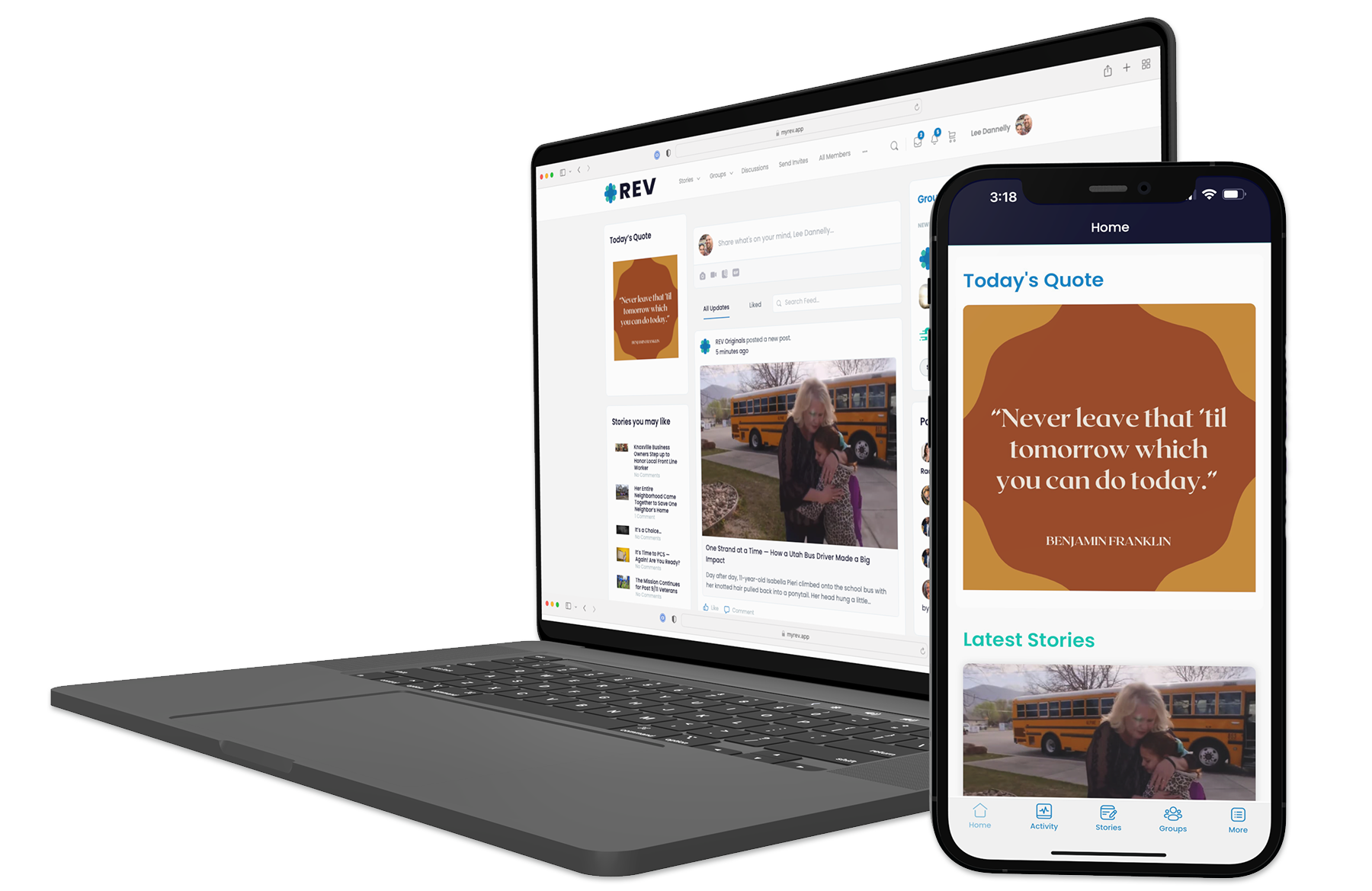 Social media should be about helping people know they belong and are valued within their organizations, families, and communities. But all too often our feeds are full of toxicity, drama, and divisiveness. We need to break through this noise by using technology in a way that promotes unity, positivity, and purpose. That's exactly what we're doing at REV.
We believe in the power of human connection to inspire positive change – this is why we've built The Meaning Network, a community-building platform designed to help power high-quality content, develop healthy relationships, and build a thriving culture. Our platform is designed to inspire, equip, and empower teams in a way that bridges communication gaps and brings people together for Meaningful Connection.
It's time to REVise social and use it as a force multiplier in amplifying the good and multiplying the impact. Learn how REV can help your team.
Powering Teams That Outperform All Others
Humans crave connection – it's hardwired into our DNA. Yet in the age of technology, we're more disconnected than ever before. That's why Meaningful Connection is so important – it lets people know they are appreciated and deeply cared about, that they matter, belong, and are not alone.
Teams with a culture of Meaningful Connection have the highest levels of trust – they care for each other, work better together, and have a greater sense of purpose.
REV's Connection as a Service (CaaS) combines training resources with our social platform to help teams build the Meaningful Connections needed to best achieve their mission and vision.
Learn more about how REV's CaaS can benefit your organization.
Connection Driven Solutions
Tools, Resources and Services that Matter.
Powerful Platform
Our full featured platform available in browser and for iOS and Android.
Connection as a Service
The ultimate package of training, resources and platform access.
Leadership UpSkilling
Specialized training for leaders in building Meaningful Connections.
Community Management
Available to guide your growing online or hybrid communities.
Strategic Storytelling
Stories are your heartbeat, we help you capture and share those stories.
Connection Events
Intentional connection moments to supercharge Cultures of Meaningful Connection.
Training Tools and Guides
Online and print resources to get you started and help you grow. 
Resource Marketplace
(Coming Soon) A marketplace of resources for training, content and more.
We were blown away by the Connection Event services and the powerful results the REV team helped us to achieve in such a short time. Sharing our stories, with their help, proved to be an incredibly rewarding and trust-building experience.
As head of HR, we're always seeking new, innovative, strategic, HR solutions to help us build trusting relationships among our team.  REV is helping us do this, and the results are already very positive! REV is an innovative approach to our EAP and taking it to a new level, Employee Inspiration Platform (EIP)!
We are always looking for strategic, new ways to connect and support our people in an effort to create a strong community at work. We see REV's new, innovative, story-based approach helping us do this in this modern, mobile world we live in. We're excited to see very positive results already.
Let's Get Started
Ready To Power Your People With Meaningful Connection? Let's Talk.